Construction industry challenges in fire rebuilding process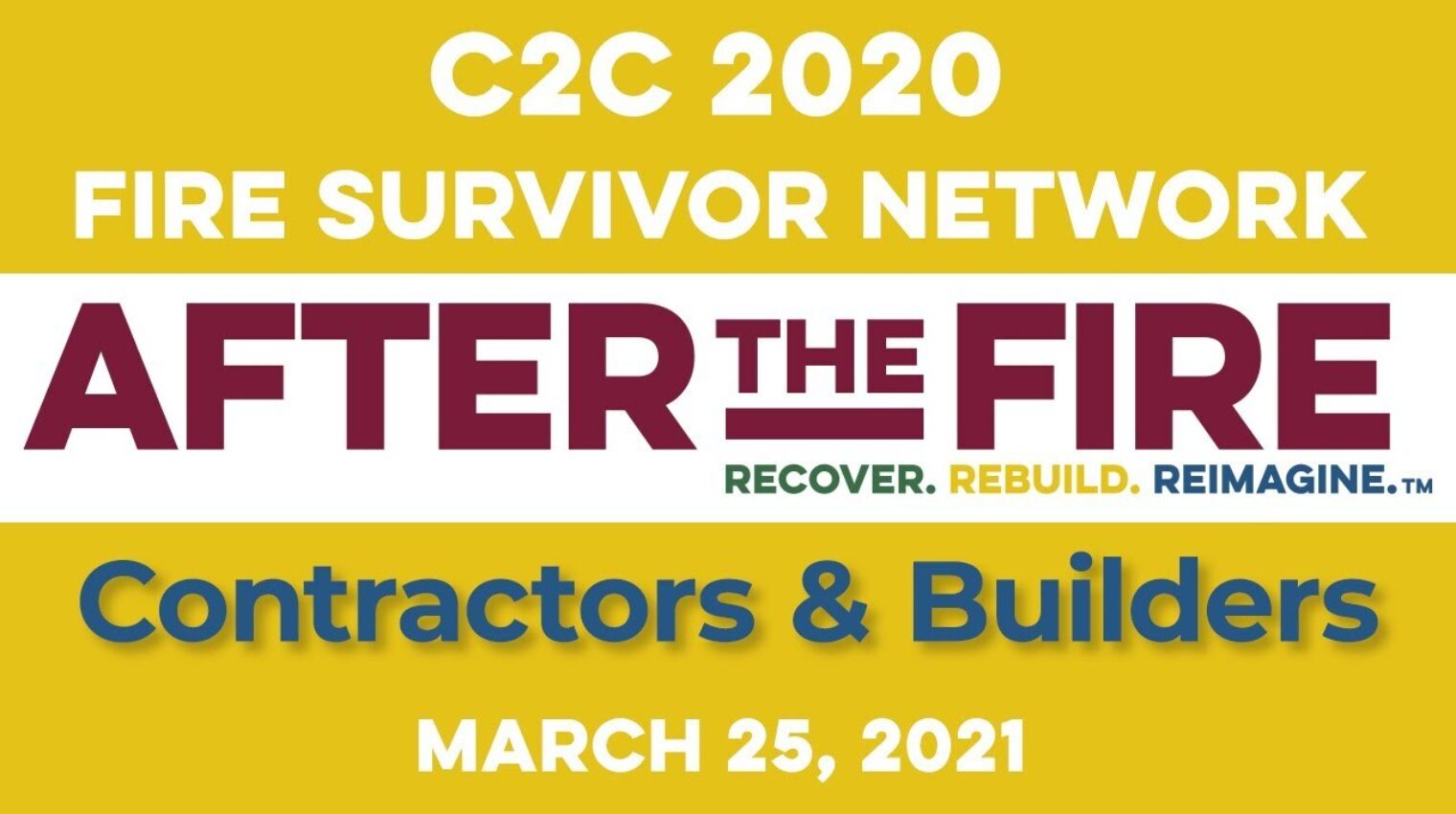 CALIFORNIA BEGINS 'HISTORIC CLEANUP' FROM FIRES BUT FACES SERIOUS HURDLES IN REBUILDING
by Jeff Daniels, Coordinating Producer
CNBC News / Los Angeles
@jeffdanielsca
Source: https://www.cnbc.com/jeff-daniels/
As California wine-country wildfires near full containment, crews donning hazmat suits are removing hazardous household waste from burned home sites.
California officials say the government-sponsored cleanup will take months, and they predict the rebuilding of homes won't start in earnest until springtime.
Even so, contractors say they are being inundated with calls for rebuilding requests and some worry about shortages in skilled labor and materials.
As California begins cleaning up from this month's deadly wildfires, concerns are rising that the rebuilding could take years and will be hampered by shortages of contractors and labor.
The governor has ordered the suspension of tough zoning, planning and other requirements to help the fire ravaged communities in Northern California bounce back faster. California, which is known for having some of the nation's strictest environmental and building regulations, also is encouraging local agencies to streamline paperwork to make the rebuilding go smoother.
Regardless, some contractors in the affected region say a shortage of skilled labor that existed before the disaster could worsen, and they worry construction material costs will jump and shortages may create additional hurdles. Some firms are swamped with requests by homeowners, including people seeking original plans for their homes and asking for help rebuilding.
"Our phone is ringing off the hook," said longtime contractor David Leff, owner of Leff Construction Design/Build in Sebastopol, a Sonoma County town about 50 miles north of San Francisco. "We're getting calls from people who we built homes for as long as 30 years ago."
Leff added, "There are more burned homes than there are contractors in the county. Some builders are going to be gearing up as much as possible. The problem is we were all so busy before the fire, and there was a fairly significant labor shortage before the wildfires, that it's going to be even more difficult now."
SOARING LUMBER PRICES
Materials costs also are likely to jump due to the surge in demand for rebuilding homes and businesses. Random Lengths, the lumber trade magazine, recently reported the prices of structural wood panels soared this year following Hurricanes Harvey and Irma.
"If the law of supply and demand holds true, prices are going to go up and we're going to see shortages of materials," said Leff. "It's happening at a time when lumber prices were already starting to go up, so that won't help."
Insured losses for property and casualty companies in the conflagration could be more than $4.6 billion, according to Moody's Investors Service.
Sonoma was the hardest hit county in this month's wildfires with some 6,800 homes lost. Another 569 homes in Napa County were destroyed. The two wine country counties each lost at least 5 percent of their housing stock, according to estimates.
Santa Rosa, Sonoma County's largest city, lost entire neighborhoods, including the suburb of Coffey Park and mobile home parks. The fires also left a path of destruction in Fountaingrove, a neighborhood known for its expensive homes.
Overall, the Northern California wildfires burned more than 245,000 acres, destroyed an estimated 8,700 structures and killed at least 42 people, according to Cal Fire. As of Wednesday, at least 16 people were still listed as missing in Santa Rosa.
Mark Neuling | CNBCThe charred remains of a vehicle sits in scorched neighborhood in Santa Rosa, California after wildfires swept the area.
"Home and business owners will likely take several years to rebuild following the recent wildfires in California," S&P Global Ratings public finance analysts said in a report Wednesday. It also said property tax relief provided to those impacted by the disaster "may lead to near-term stress on local governments."
WILDFIRE-PRONE AREAS
Experts say California has allowed homes to be built near wildfire-prone areas, raising the danger of more deadly disasters.
"A lot of new homes are being constructed in places that are at risk to wildfire," said Kelly Pohl, a geographer at Headwaters Economics, a Montana-based independent research group. "That's happened in Northern California and could happen in a lot of places."
Pohl said building materials can be used to make new construction "ignition resistant and resistant to embers."
Newer construction may include use of noncombustible products, including fiber-cement panels or siding as well as fire-retardant-treated woods.
Either way, builders say they will be looking for groups of houses that are close together or within a few blocks of each other in order to benefit from economies of scale and do production-type building. Specifically, builders could utilize the same crews, subcontractors and even management resources.
CUTTING RED TAPE
Experts also see an opportunity to ease the process of local permitting. They see the need to accelerate permit processing, noting that the increase in construction activity could overwhelm some communities and result in delays.
However, a state official said California can call on resources from out of state if needed to help the affected communities during rebuilding if there's a shortage of inspectors.
In Sonoma County, there is pressure to ease permitting rules at county and city levels as well as to streamline the inspection process.
For Napa County, discussions also have been held about emergency measures to cut red tape. One proposal drawing interest in Napa is to allow people with destroyed houses permission to temporarily live in mobile homes or RVs on their properties.
Napa also could see economic impacts due to its reliance on wine-related tourism. Several dozen wineries in the region were damaged or destroyed. In Napa Valley alone, visitors generated nearly $2 billion in spending in 2016, according to research conducted by San Francisco-based Destination Analysts.
Be that as it may, the first priority is a government-sponsored cleanup effort of hazardous waste and ash that involves the Environmental Protection Agency and the Army Corps of Engineers. The state and federal government declared a public health emergency due to the wildfires, making available extra resources to help in the recovery efforts.
"Unlike a fire that occurs when you burn the wood in your home fireplace, the ash from burned homes contains many other items," said Dr. Karen Milman, Sonoma County's health officer. "It contains metals, chemicals and potentially asbestos."
'MONUMENTAL UNDERTAKING'
Even as the wildfires near full containment, EPA crews in protective suits went into the field this week looking for hazardous household waste to remove from burned neighborhoods in Sonoma County.
Similarly, collection crews in Napa County searched for leftover household waste from burned home sites. The Corps of Engineers is mobilizing teams that will follow by removing toxic materials in the burned areas.
"This is a monumental undertaking that is in front of us," said Eric Lamoureux, a regional administrator with the Governor's Office of Emergency Services. "It's a historic cleanup that has to occur not only here in Sonoma County but across Northern California."
Lamoureux told reporters this week the goal is to have the cleanup completed by early 2018, and he envisions springtime for the rebuilding to start, perhaps even sooner.
If the cleanup isn't finished by January, winter rains could slow efforts at burn sites and result in toxic particles running off into streams, reservoirs and becoming harmful to humans and wildlife. Water supplies in Napa County include reservoirs where the wildfires burned, and there's also a worry well water could end up being tainted, too.
The cause of the wildfires remain under investigation, according to Cal Fire.